Date: Saturday 9 June 2018
Time: 0830 – 1700
Location: Endeavour Room, University Hall, James Cook University, DOUGLAS, QLD 4811
Cost: AMMA Member $300 AUD | Non Member $350 AUD
In this multi-faceted workshop, our facilitators will cover many aspects of tropical and travel medicine including the changes in the rabies vaccination regimes proposed by WHO. Registration will include workshop, lunch plus morning and afternoon refreshments.
*Program
Facilitators: Prof. Marc M.T. Shaw and Prof. Peter A. Leggat, AM
Guest Speakers: Prof. Gueladio Cisse, Swiss Tropical Institute,
Dr. Melissa Crowe (MC), Australian Institute of Tropical Health and Medicine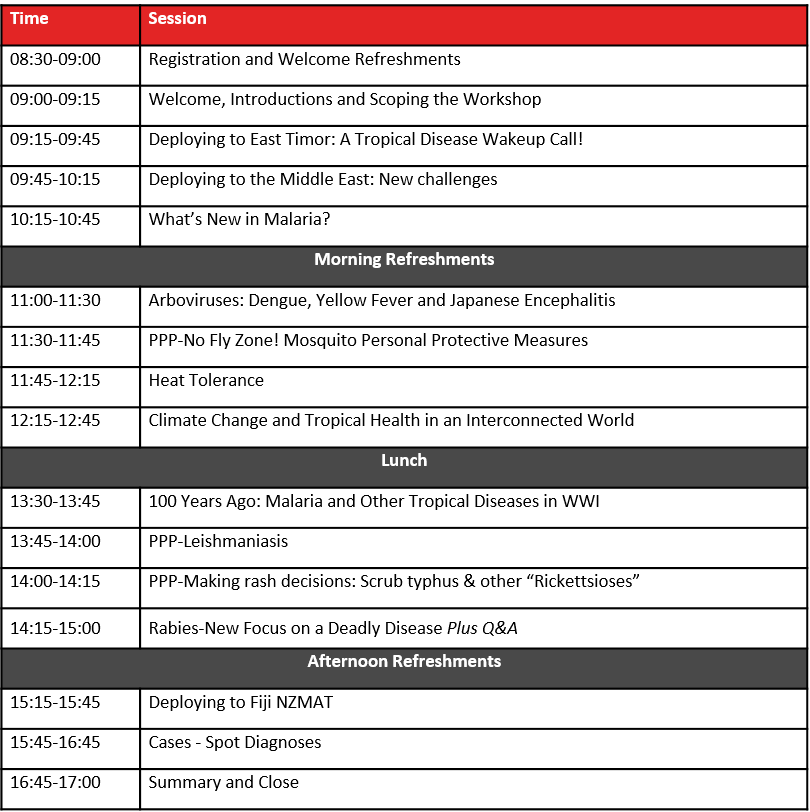 *Program Subject to change
Facilitators: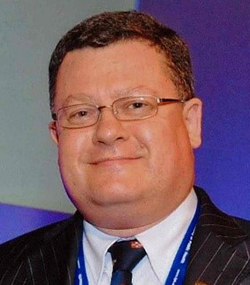 Professor Peter A. Leggat, AM
College of Public Health, Medical and Veterinary Sciences, James Cook University
Professor Peter A. Leggat, AM, joined the Australian Regular Army in 1987. He was posted to various units, including the historic 2 Field Ambulance in Townsville. He has served abroad in Thailand attached to the Australian Embassy, Bangkok, in 1990 and with the United Nations Transitional Authority in East Timor in 2000. He served with the Army Reserve for nearly 20 years being promoted to the rank of Colonel. Professor Leggat is currently Director of the World Health Organization Collaborating Centre for Vectorborne and Neglected Tropical Diseases, College of Public Health, Medical and Veterinary Sciences, James Cook University (JCU), Townsville. For nearly 25 years, he has also been a civilian Visiting Medical Officer for various military units, including Lavarack Barracks Medical Centre and 5 Aviation Regiment. Professor Leggat holds board appointments with various organisations, including the the International Society of Travel Medicine (Secretary-Treasurer), The Australasian College of Tropical Medicine (ACTM, President), the Faculty of Travel Medicine of the ACTM (Dean) and the Australasian College of Aerospace Medicine (Dean of Education), as well as being the National Director of Training for St John Ambulance Australia. He holds editorial board positions on a number of journals, including the Journal of Military and Veterans' Health. A former Fulbright Scholar and Fulbright Ambassador, he holds several doctorates and Fellowships and has published more than 500 papers in professional journals and more than 80 chapters in textbooks. He has also edited or co-edited more than 20 monographs and textbooks and presented more than 375 papers at national and international meetings. He was admitted as a Member of General Division of the Order of Australia (AM) in 2013 for significant service to medicine and promoted as Commander of the Order of St John in 2016.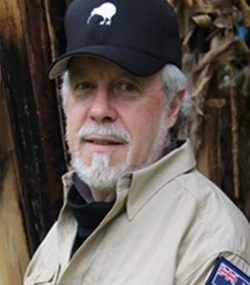 Professor Marc Shaw
Medical Director, WORLDWISE Travellers Health Centres New Zealand
Professor Marc T.M. Shaw, DrPH, FRNZCGP, is a Fellow of the Royal New Zealand College of General Practice. Marc was a Family Practitioner for 15 years before specialising in travel and tropical medicine. He has gained a Doctorate in Public Health, from James Cook University in Australia, is a Fellow of the Faculty of Travel Medicine from the Royal College of Physicians and Surgeons of Glasgow. He is also a Fellow of the Australasian College of Tropical Medicine and of the joint Faculties of Travel Medicine and Expedition and Wilderness Medicine from the same College. He is currently Vice President of the College and Dean of the Faculty of Expedition and Wilderness Medicine. In 2008 he was made a Fellow of the Royal Geographical Society, and was a recipient of the Inaugural Award for Travel Medicine from the Australasian Society of Tropical Medicine. He has interests in all aspects of travel and geographic medicine and also in expeditions to remote regions. He has deployed to Afghanistan with the New Zealand Defence Forces in Bamyian and also to Fiji with the New Zealand Medical Assistance Team. Currently he is both Medical Director of the Worldwise Travellers Health Centres of New Zealand, and an Adjunct Professor in the College of Public Health, Medical and Veterinary Sciences, James Cook University, Australia